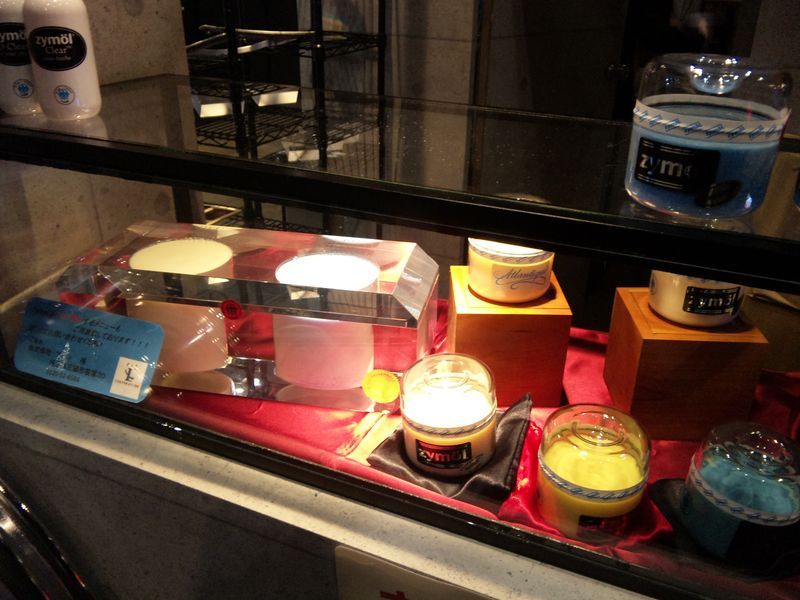 For those who want "all natural" to their beloved vehicles , you have the choice of having ZYMOL Estate Glaze be applied to your vehicles.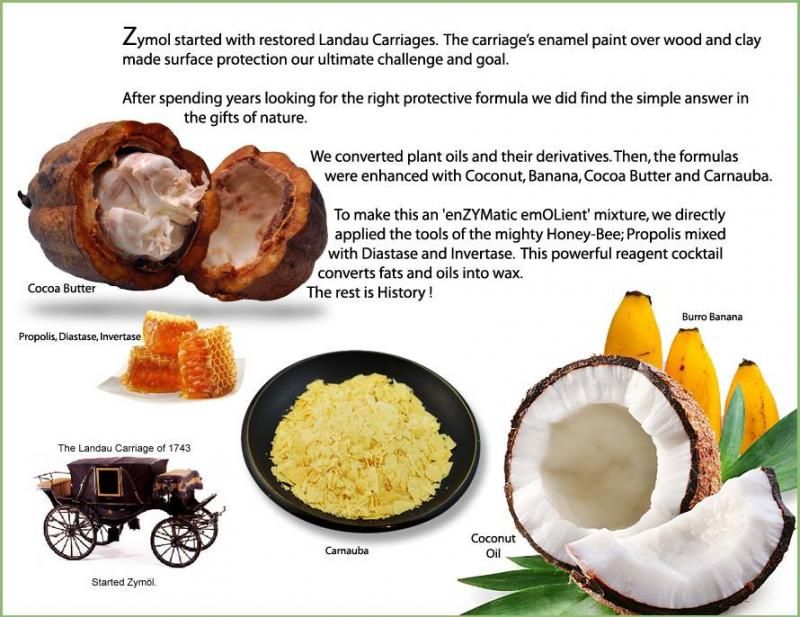 .
Features
The Concours Glaze was originally crafted by the founders of Zymol for their personal vehicles
Creates a "show-car" gloss and depth of shine
The Zymol Concours Glaze is a unique 47% carnauba formula which provides better protection from the outdoor elements and paint corrosion
The exclusive balance of both white and yellow carnauba wax (90% white, 10% yellow) gives an observable increase in both depth and clarity
Comes in a long-lasting 8 oz jar
The Zymol Concours Glaze is suitable for all paint types and colors
Description
The Zymol Concours Glaze will prove that you don't have to own a show car to give your vehicle that "Show Car Shine." With its unique formula of nutritive oils and rare Brazilian Carnauba, the Concours is designed to protect your vehicle while producing an ultra-brilliant, durable sheen.

The secret is in its special carnauba formula. The delicate balance of white and yellow Carnauba provides a visible increase in depth and clarity over other waxes in its class.

What's more, this unique 47% carnauba formula protects your vehicle from any outdoor contaminants and reduces paint corrosion. Therefore, not only does the Concours give your vehicle an enviously glossy finish, it keeps your car, truck or SUV better protected and makes sure your paint remains in tip top condition.

You know you are in safe hands when the founders of Zymol designed the wax for their own personal vehicles. Go with Zymol Concours Glaze and discover the difference between the ordinary and the extraordinary.

Features
The Zymol Destiny Estate Glaze has one of highest percentages of Brazilian No. 1 White Carnauba in its class
Based on renowned auto enthusiast Bruce Meyer's original formula
The Zymol Destiny Estate Glaze is a high concentrate, surface protecting glaze which provides a brilliant shine
It proves the saying "A little goes a long way" with its 8 oz jar
Description
With the Zymol Destiny Glaze you not only receive a top notch car wax, but you become part of the history books! The formula was first used on the 1930 Duesenberg "J" Murphy Convertible Sedan owned by the legendary auto enthusiast Bruce Meyer. Zymol Destiny Estate Glaze, using the same recipe was later introduced and critically acclaimed at the Pebble Beach Concours d'Elegance, perhaps the most prestigious automotive event in the Western Hemisphere.

This impressive car wax is the first of its kind with its unique concentrate of 51 % Brazilian White Carnauba wax. The special formula provides the surface of your vehicle with the protection it needs whilst also giving a brilliant and longer lasting shine.

Combined with the almond, coconut, banana and sunflower oils the Destiny Glaze provides a lingering luster which will make both the sight and scent of your vehicle a delight to the senses.

Features
Contains 60% Carnauba Wax by volume (100% White).
Based on the formula for Ralph Lauren's 1937 Bugatti Type 57SC Atlantique. Used to Win at Pebble Beach Concours d'Elegance.
Ingredients derived from nature include cinnamon bark, sunflower and clove oils.
Provides protection that polishes do not.
Greater protection with increased depth of shine and reflection.
No harsh chemicals or abrasives.
No white residue or buildup along seams.
Description
Zymol Atlantique Glaze(wax) is based on a custom formula developed for Ralph Lauren's 1937 Bugatti Type 57SC Atlantique. Like many Zymol-prepared cars, the Bugatti won "Best of Show" at the Pebble Beach Concours d'Elegance in 1990. The protective ingredients in Atlantique are clove, coconut, cinnamon bark and sunflower oils. Suitable for all paint types and colours. Atlantique contains 60 percent Brazilian No. 1 White Carnauba by volume.
Zymol waxes are actually "enzymes" that turn into wax when exposed to air during application on your paint surface.
The Bentley of automobile waxes has arrived. Descended from royalty, the Zymol Vintage Glaze formula is based on the award-winning recipe crafted for the 1947 Bentley Mark VI Cabriolet. And like a fine wine that improves with age, so too has the Zymol Vintage Glaze's mixture been perfected during the slow passage of time.

The Zymol Vintage Glaze's glossing powers come from the meticulously chosen natural ingredients. Chief among them is the 61% of No. 1 White Brazilian Carnauba Wax, the finest and rarest of carnaubas available. The rest of the Zymol Vintage Glaze formula is rounded out by natural oils and extracts, never harsh petrochemicals. And the majestic wax is suspended inside a translucent, gem-inspired glass case.